TCHIBANGA (FOOT/TCH)
What airfield can I expect?
Tchibanga's runway has been recently asphalted (2006), yet the surface has large bumps which can make aircraft jump up and down during take-off and landing rolls. The parking can easily accommodate four regional jets. The airport has an AFIS operator and is open from 0800 to 1600 LT, which are his working hours; extensions to sunset can be requested in writing before noon at the Libreville airport office. Keep in mind the AFIS operator is poorly trained, not supervised, and his radios are often down: don't rely too much on him… Until Mayumba airport reopens, which is supposed to happen in 2011, the oil companies use Tchibanga as a base to dispatch crews to their oil rigs: keep a sharp lookout for their helicopters.
The small terminal building dating is under the responsibility of the AFIS operator who will open it for you should you need it. The right aisle consists in a couple rooms for scheduled passengers, while a small VIP room with a couple couches and AC is located in the left aisle. The airport is normally unguarded; if staying overnight, it is a good idea to ask the AFIS operator for a night watchman. No flight plan filing is required to leave Tchibanga, although normally circular flight plans are filed in Libreville for return flights. The applicable landing fees for Tchibanga will be charged by the Libreville airport office.
The city is located about 4 km to the south of the airport; the 5-minute taxi ride on the nice paved road can be negotiated for about 1500 XAF.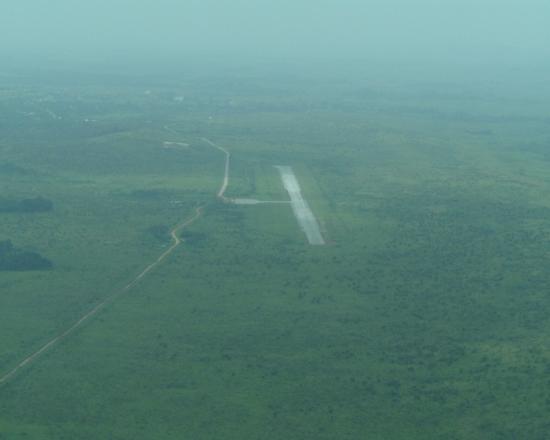 Where am I?
With about 24,000, Tchibanga is the capital of the Nyanga, Gabon's southernmost province bordering Congo. The town is located in the grassy savannahs of the Nyanga valley.
Gendarmerie (military police): +(241) 82 00 51
Hospital: +(241) 82 00 49
Pharmacies (Massanga): +(241) 82 03 90
No bank.
Where do I sleep?
Hotel Modibotié
(10mn from the airport)
PO Box 185 - Tchibanga
Tel: +(241) 82 02 51 / 06 40 20 49 / 06 05 63 23 / 07 54 83 76
This hotel complex ran by a French couple is the best choice in Tchibanga. There are about a dozen air-conditioned rooms, a bar, a pizzeria and even a swimming pool. The place is simple but clean, and the breakfast is excellent as the owner also has his own bakery! (2010)
Relais de la Nyanga
(10mn from the airport)
BP 248 - Tchibanga
Tel: +(241) 82 00 06 / 82 00 08
This former Novotel used to be derelict, yet it has been renovated in 2006. It offers 16 simple yet clean rooms with local TV and air-conditioning. The hotel is built on a hilltop, and it has a stunning view over the surrounding savannah and Nyanga river. There is a bar and a small swimming pool on the terrace, yet the restaurant has closed due to the lack of customers. (2010)
Where do I eat?
What can I visit?
Where can I go out?