RABI (FOBI/-)
What airfield can I expect?
Rabi Airfield is a private Shell Gabon facility consisting of a single 1300 m x 23 m runway, orientated 010º / 190º, with a bitumen sealed surface and parking apron. Rabi airfield was constructed, and is maintained and operated, as a non-public landing strip for Shell Gabon oil production and exploration support flights. Due to the restricted aircraft approach and take-off paths and proximity of oil processing facilities, use of the airfield is limited to twin-engine, turbo-prop aircraft or, exceptionally, twin-engine helicopters only, capable of meeting ICAO public transport requirements, and of an aircraft type that is approved by Shell Aircraft. The runway is limited to aircraft weighing 20 tons or less. At present there are no helicopters normally operating to Rabi airport, unless required by Shell Gabon for emergency medical evacuation flights or urgent joint venture business. Any request for other helicopter flights into Rabi airport would require specific Shell Gabon management approval and this would not normally be given. Shell Gabon reserves the right to suspend flight operations to/from Rabi when it considers there is an issue affecting safety.
The airport is normally open for flight operations between 0600Z-1100Z & 1200Z-1700Z each weekday and normally closed for flight operations on Saturday and Sunday. The request for passing of flight information and weather conditions by radio (or telephone), and any actual airfield operations, between 1100Z-1200Z Mon-Fri and all day Saturday and Sunday requires prior approval, to enable the radio operator and fire-crews to be in attendance and any airport staff meals to be appropriately arranged. There are no Customs or Immigration facilities available at the airport.
Although the airspace around Rabi Airport is uncontrolled airspace, the Rabi Tower radio operators (119.0 MHz) will pass advisory information about airport conditions, other aircraft of whom they are aware and a current meteorological observation when contacted by VHF radio. Rabi Airport also has arrival and departure paths agreed with the main Shell Gabon aircraft operator, which avoids over flying the oil terminal. Aircraft operators intending to conduct flight operations to Rabi Airfield are required to seek authorisation from Shell Gabon at +(241) 55 26 62, at least 48 hours prior to the intended flight which will be subject to a landing fee. It is unlikely that any such flights will be authorised unless it is felt that there is a clear Shell Gabon business need for the flight to take place. Airfield opening for emergency helicopter flights, outside of the normal daily operating period for operations, can be arranged at short notice (approximately 1 hour) through the Rabi Oilfield Permanence system.
As the airport lighting and electrical power supplies do NOT meet the ICAO requirements for night time public transport operations, the airfield is authorised by the Gabonese CAA for public transport VFR operations during the hours of daylight ONLY. Rabi Airport cannot be opened at any other time for routine or non life-saving flight purposes. A basic runway-edge and apron lighting system has been installed which enables the airstrip to be used by helicopters at night for emergency medical (lifesaving) flights only. There is a set of PAPI lights for each runway, but approach lighting is only available on the approach to runway 19.
There are no aircraft starting, maintenance or refuelling facilities at Rabi Airport and only minimal (basic) shelter and toilet facilities for passengers waiting for or disembarking flights. Shell-Gabon security staff inspects ALL passenger luggage and freight arriving, departing or transiting Rabi to ensure no drugs, alcohol, firearms or any other restricted or dangerous goods are carried on flights to and from the Rabi Oilfield complex
The fire service has a 27-ton fire truck manned by 4 firemen carrying 7000 ltr of water & 500 ltr of foam with lance delivery. Back-up crash rescue facilities are also available in Rabi.
The Shell compound is located a kilometer away from the airport terminal.
(from Shell Gabon Rabi Airfield Information, Rev.7, 01/01/2010)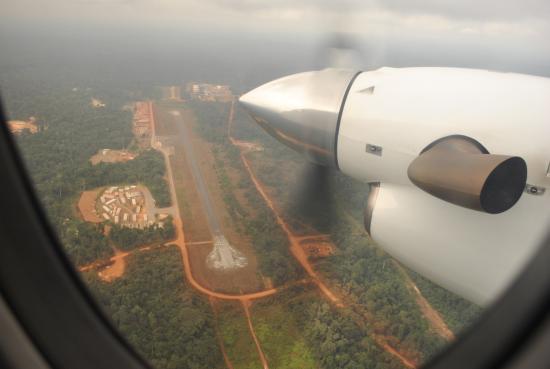 Where am I?
Rabi-Kounga is the largest onshore oil production facility in Gabon, operated by Shell with Total and Perenco as partners. The first wells were drilled in the area in 1985, production peaked at 250,000 barrels a day in 1997, but it has dropped drastically since.
Where do I sleep?
The Shell compound offers clean air-conditioned rooms in prefab bungalows for visiting crews.
Where do I eat?
The Shell compound has a cafeteria operated by industrial food group Sodexho, which is open to visiting crews. Alcohol is strictly prohibited on the compound.
What can I visit?
There is nothing to the Shell compound itself, where everything is highly regulated anyway. On the other hand, Rabi is located in one of the deepest rainforest of Gabon, so if you get the chance, have a ride on a 4x4 to have a peep around.
Where can I go out?
Nowhere. This is a Shell facility in the middle of the bush, mate...