LA LOPE (-/-)
What airfield can I expect?
La Lope is a 700-meter runway made of earth and grass. The airport belongs to Emile Doumba, a former Gabonese Finance Minister, and serves the local community and la Lope-Okanda National Park.
La Lope is located on the southern bank of the Ogooue River, in grassy wetlands surrounded by hills, the tallest is Mount Brazza a few miles to the southwest, culminating at about 3,000 ft. The runway can get soaked pretty quickly during the rainy season, which renders the surface surprinsingly slippery. Other than this problem, the runway is nice, flat and hard, with grass cut regularly by the nearby hotel operator.
There are no terminal, no fuel, no tie-downs, la Lope is simply a runway.
The town of la Lope is located about 4 km from the airport. No taxi ever comes by, so the best bet is to walk to the nearby Hotel Lope, about a kilometer away, to arrange some form of transportation.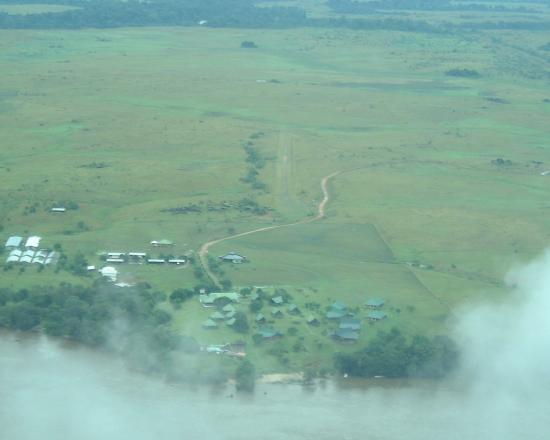 Where am I?
La Lope is a small community which lives mainly on its freight train station serving the nearby timber industries, and on the Lope-Okanda National Park.
Where do I sleep?
Hotel Lopé
(almost on the airport)
PO Box 12151 - Libreville (address of the reservation center in Libreville)
Tel: +(241) 72 05 96

Hotel Lope is located right beneath runway 08 final approach, on the river bank. It offers 28 pretty wooden bungalows of various size and comfort, but all very clean and air-conditioned. The hotel is built in a plush axotic garden complete with a swimming pool. The view on the Ogooue River and on Mount Brazza is simply breathtaking. Good restaurant with European food. Bungalow prices range from 45,000 to 75,000 XAF.
Where do I eat?
What can I visit?
Lope-Okanda National Park is one of the most popular in the country, so be sure to arrange an excursion there with Hotel Lope's staff. The park offers beautiful sceneries of rainforest and savannahs, with loas of animals like buffaloes, monkeys and elephants. Half-day car excursions are normally 30,000 XAF per person.
Where can I go out?