IGUELA (FOOI/IGE)
What airfield can I expect?
Iguéla is a sand and grass bush runway, located in a large savannah bordering the ocean. The runway can be distinguished from the rest of the savannah thanks to white markings on the ground. Both ends are free of obstacles and the terrain is flat. Grass sods in the sandy surface are very hard, making the runway pretty rough; many airplanes have broken nosewheels in Iguéla in the past, so only land there if you are equipped with a strong landing gear. Check for wildlife before you land, as herds of buffalos or elephants are sometimes close-by.
Parking is in the surrounding savannah, beware of soft sand in places. A couple tiedowns are provided. The nearby lodges will provide a watchman if you stay overnight. No flight plan, no fees.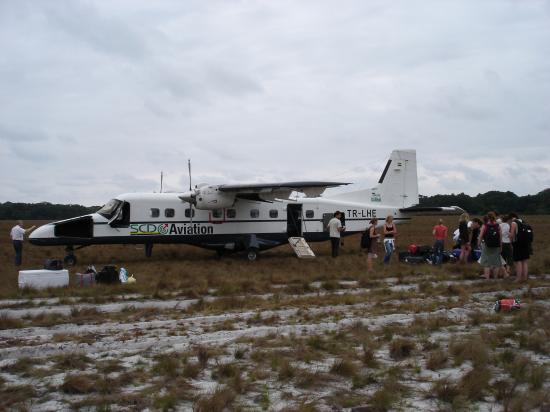 Where am I?
With 2,300 km² of wild forest, lagoons and savannahs, Iguéla is one of the most renowned national park and animal reserve in Gabon. This remote place is the territory of elephants, gorillas, buffaloes, antelopes, monkeys, warthogs, and countless bird species. Its lagoons are home to a wide variety of fishes, including the prestigious tarpon.
Iguéla means 'passage' in the local language, and refers to a monkey trap made of lianas in which the animal is caught while passing by. There is no village as such in Iguéla, but three lodges have been constructed on the shores of Iguéla Lagoon since 1996, when the reserve was opened for eco-tourists. All of them are a few minutes drive from the airstrip.
Where do I sleep?
Tel: +(241) 56 48 18 or 07 18 92 72 or 07 65 61 57
Fax: +(241) 56 48 19
Email: portgentil.res@africas-eden.com
Built by Dutch billionaire Richard Swanborne, the Lodge de Loango is aimed at the wealthy. His own airline flies customers arriving from Europe directly to Iguéla. Luxury bungalows are offered, with all possible amenities.
Campement Gabon-Safaris
Tel: +(241) 70 23 30 or 56 17 06
This camp is led by famed game hunter Henri Guizard, now converted to eco-tourism. It offers wooden huts equipped with a bathroom and mosquito nets. Good cuisine made from local ingredients. Room and meals go for 75,000 XAF per day, excluding drinks.
Campement d'Iguéla
The oldest camp in Iguéla, renovated in the early 2000's. Rectangular huts equipped with a toilet and a shower.
Where do I eat?

Nowhere to eat apart from the three lodges described above.
What can I visit?

Activities in Iguéla are centered on safari excursions and sport fishing, with all three lodges offering various formulas.
Where can I go out?

Not much choice apart from the bars in the lodges. Henri Guizard of Campement Gabon-Safaris is known for telling unforgettable night-long stories around his bar, of which he made a book, "les Veillées de Chasse d'Henri Guizard".