GONGUE (-/-)
What airfield can I expect?
Gongue is a laterite runway located in the Forêt des Abeilles ("bees forest", but these don't sting, btw) about 40NM northwest of Koulamoutou. The runway was built in a gully between two hills, which was partially filled with earth. Runway 18 is upslope, so it is used for landing. Beware of the hill covered with massive trees after the runway: any missed approach decision must be made early. Runway 36 is used for takeoff. A timber camp is located less than a mile northwest of the strip. Runway surface is hard and quite smooth, but is easily furrowed by rains. Check for mud as well, as it can get pretty sticky after heavy rains. The surrounding terrain is made up of hills, beware of not getting in low-level IMC while trying to get in.
Airplanes normally park at the end of runway 18. No tiedowns, no flight plan, no fees. The runway is the property of Leroy Gabon, a timber company. Authorization to operate on the airfield should be sought from their offices in Libreville at +(241) 74 32 51.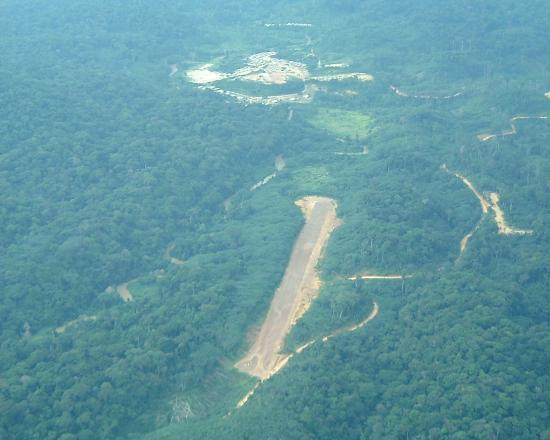 Where am I?
In the middle of 6,000 km² of forest, exploited from the nearby timber camp.
Where do I sleep?
The only place to sleep is the nearby Leroy Gabon camp. Such accomodation must be arranged beforehand with the main office in Libreville.
Where do I eat?

Meals at the camp would have to be arranged with the camp operator.