GAMBA - YENZI (FOGX/GAX)
What airfield can I expect?
Gamba is a private airstrip belonging to Shell Gabon, which operates in the nearby oil fields. You have to request permission to land in advance from Shell's Air Operations Manager at +(241) 55 26 62. This permission may mention applicable landing fees payable to Shell Gabon. The airport prohibits operations of single-engine and/or piston-powered aircraft, and the runway is limited to aircraft weighing 20 tons or less.
The airfield at Gamba was originally constructed in the 1960s and the facilities and buildings were upgraded and the 130°/310° orientated, 1,800m x 30 metre, stabilised Laterite runway re-sealed with bitumen during 1991. The entire runway was re-laid in 2003 and additional drainage works carried out, due to general degradation of the surface coating and subsurface structure. The runway has been re-asphalted in 2010. There is an additional Laterite (unsealed) extension of 700 metres, to the south of Runway 13, which, although NOT regularly maintained, is available as a stopway or over-run area in the event of an emergency. The predominant wind in Gamba is from the south.
Although the airspace around Gamba Airport is 'uncontrolled airspace' the Gamba Tower radio operators (119.0 MHz) will pass advisory information about airport conditions, other aircraft of whom they are aware and a current meteorological observation when contacted by VHF radio. Gamba Airport also has arrival and departure paths agreed with the principle aircraft operators, which assists with aircraft separation and avoids over flying the local villages and oil terminal. Aircraft taking-off to the South East (runway 13) should climb ahead on runway heading to at least 500ft before turning left or right on track. Aircraft turning right after take-off from runway 13 should continue their climb and NOT over fly the oil terminal below 2,000ft. Aircraft taking-off to the North West (runway 31) should climb straight ahead on runway heading to 1,000ft before turning on to their required track.
There is runway edge lighting and two pairs of VASIs on the approach to runway 13 (nominally set at 3.5° to allow 50ft clearance over the runway threshold for Dash 8-300 type aircraft), but NO approach lighting. As the airport lighting and electrical power supplies do NOT meet the ICAO requirements for night-time public transport operations, the airfield is authorised by the Gabonese CAA for public transport VFR operations during the hours of daylight ONLY. The airport is normally open for flight operations between 0600Z & 1700Z daily. From Saturday 0900Z to Sunday 1400Z, airfield maintenance work and personnel is on stand-down for rest, training or other duties, so airport operations will be limited. There are no Customs or Immigration facilities available at the airport.
A hangar and a Jet-A1 fuel system is available, but is primarily reserved for use on Shell Gabon dedicated flights operated by SN2AG of Libreville. Agreement for use should first be made through Shell Gabon & then SN2AG, and payment terms must be made directly with SN2AG. The fire service consists in a 27-ton fire truck manned by 4 firemen carrying 7000 ltr of water & 500 ltr of foam with lance delivery. Back-up crash rescue facilities are also available in Gamba.
The main Airport Terminal building includes passenger and freight check-in facilities, departure lounge, Radio (AFIS) tower and flight administration offices. These facilities are primarily for Shell Gabon use, although at present some other operators are allowed limited access to some of the facilities. There is a privately operated restaurant/cafe adjacent to the public areas (normally open during airport operating hours). Shell Gabon also has a small aircraft hanger facility. Pre-booked car-hire is available locally on request directly to the hire car company (EGCA).
The city is located a couple kilometers away from the airport.
(from Shell Gabon Gamba Airfield Information, Rev.6, 01/01/2010)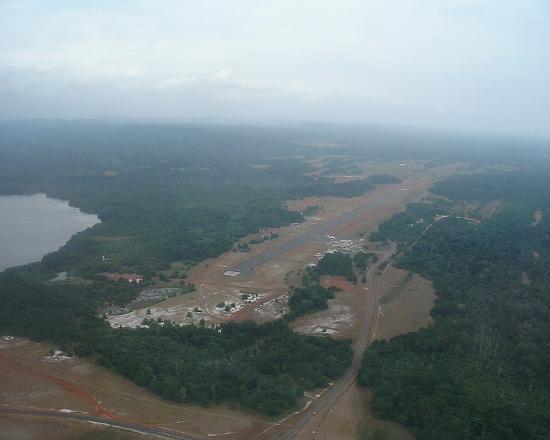 Where am I?

The city of Gamba, located on the coast next to the Gamba Lagoon, owes its existence to the oil companies which operate in the region. Most of the 8,000 inhabitants work more or less directly for the oil industry, and especially Shell, which has a large compound in the city.
Gendarmerie (military police): +(241) 50 01 17
Medical center: in quartier Plaine 3
Pharmacies: three in town
Banks: BICIG in the Shell compound
Where do I sleep?

Auberge du Missala
(5mn from the airport)
Quartier Plaine 1
Tel: +(241) 50 02 62
Air-conditioned rooms, a bit on the expensive side. Expect 30,000 XAF per night.
Auberge des Pétroliers
(5mn from the airport)
Quartier Plaine 3 next to Gaboprix supermarket
Tel : +(241) 50 03 56
Recently-built hotel offering 9 clean and air-conditioned rooms. The place is organised around a calm patio. Rooms cost around 20,000 XAF.
Vembo
(5mn from the airport)
Part of the Shell Compound
Clean and air-conditioned rooms can be obtained in the Shell compound. Talk with service PAM/3 to get the clearance.
Where do I eat?

The restaurant of Auberge du Missala (see hotel above) probably serves the best food in town, with European or African meals going for about 8,000 XAF. For the less adventurous: the Shell compounds of Vembo and Yenzi have cafeterias operated by industrial food group Sodexho, which are open to the public.
What can I visit?

Gamba itself doesn't have much interest to it. However, its surroundings are absolutely beautiful: deserted white sand beaches, savannas populated with buffaloes and elephants, calm lagoons and rainforest. The remoteness of the region has left it unspoilt despite the oil industry's presence for decades. The hardest thing is to find proper all-terrain transportation to go and visit the area: car rental company EGCA, located in the Shell compound, offers 4x4 vehicles starting at 45,000 XAF per day including insurance (tel: +(241) 55 83 21). Pirogues can be rented to visit the lagoon at about 25,000 XAF a day plus fuel.
Where can I go out?

Satady Night-Club
The sole night-club in Gamba, located in quartier Plaine 3. Torrid atmosphere from Thursday , Friday and Saturday nights.