BITAM (FOOB/BMM)
What airfield can I expect?
Bitam is a public airport with a 1500-meter laterite strip in good condition. The challenge generally comes from the convex shape of the runway, as the airport is built on a hilltop. The airport is nested inside the town and has little traffic. Local taxis use it as a shortcut, kids play soccer on it, and goats wander around freely, which can create a hazard as it is never possible to see the other end of the runway. Also beware of a couple tall antennas in town.
No AFIS, no customs, no fuel, no tie-downs, no nothing...
The small passenger terminal was used until the early 2000's, but scheduled flights have stopped now. The largest aircraft operated here are 20-ton turboprops. Bitam remains a good diversion in the event landing in Oyem is not possible, as the drive between the two towns is only an hour.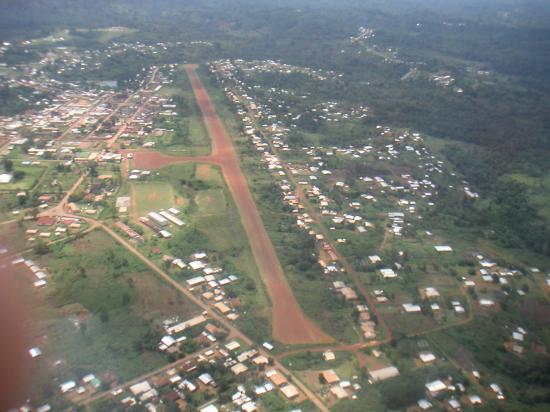 Where am I?
With a population of 10,000, Bitam is the second largest town in Gabon's northernmost province, the Woleu-Ntem. It is pretty much a border town with nearby Cameroon and Equatorial Guinea, and as such it lives from commerce and smuggling. Other activities in the area are rubber tree plantations and fish farming.
Where do I sleep?
Where do I eat?
What can I visit?
Where can I go out?