BAMBIDIE (-/-)
What airfield can I expect?
Bambidie is a laterite runway located in the forest between Lastoursville and Okondja. From Lastoursville, the dirt road can easily be followed to Bambidie's airfield. A timber camp is located less than a mile north-east of the runway. The runway is long, wide, with a clean surface and vast clearways at both ends. It can get pretty sticky with mud after heavy rains. Surrounding terrain is flat. From a practical standpoint, landings are usually performed on runway 10, and takeoffs on 28, but there is no safety reason for this.
A concrete parking spot is provided on the side of the runway, but there are no tiedowns on it. A guard is usually on duty in the wooden watchtower, yet he has no radio. No flight plan, no fees. The runway is the property of CEB / Precious Woods Gabon, a timber company. Authorization to operate on the airfield should be requested from their offices in Libreville at +(241) 73 45 79 or ceb@preciouswoods.com.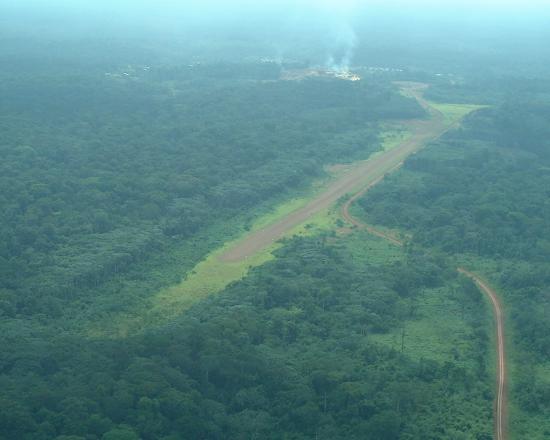 Where am I?
Well, you're in the middle of the bloody rainforest... Bambidie is the largest timber camp in Gabon.
Where do I sleep?
The only place to sleep is the nearby CEB / Precious Woods camp, which normally has a couple spare rooms available in their nice compound. Such accomodation must be arranged beforehand with the main office in Libreville.
Where do I eat?

The compound has a cantina for the dozen of expats who work on the site. Once again, meals would have to be arranged with the camp operator.
What can I visit?

Well, unless you hunt elephants for a hobby, there isn't much to visit here, apart from the sawmill. If you ask nicely, CEB / Precious Woods personel might take you with them in the forest to watch the downing of an Okoume, a Padouk or a Moabi tree.
Where can I go out?

If you are staying at CEB's camp, then just relax at the cantina, where you can drink beer, watch satellite TV or play pool.