GABON
Welcome to the Makaya Aeronautical Information Publication (AIP)!
The Makaya AIP is designed to provide African bush pilots with the much-needed information that cannot be found in the official AIPs. All material provided here comes from the work and experience of many individuals; however it is wise to check it before use. Approach plates are intended for VMC only. Should you have any remarks or additional information regarding the Makaya AIP, please do tell us.
Local Procedures
Libreville to Port Gentil Offset Route System
The 82-NM route between Libreville (FOOL) and Port Gentil (FOOG) is very busy, especially in the morning and late afternoon hours. In order to accomodate all traffic, an offset route system has been put in place, featuring an INDIA Direct Route between the two airports, and a GOLF Route offset 19° to the left. Clearance for INDIA or GOLF route will be given on departure from Libreville or Port Gentil. If initially cleared on GOLF Route, reclearance to INDIA Route may be possible once airborne with the agreement of both Port Gentil and Libreville approach controllers.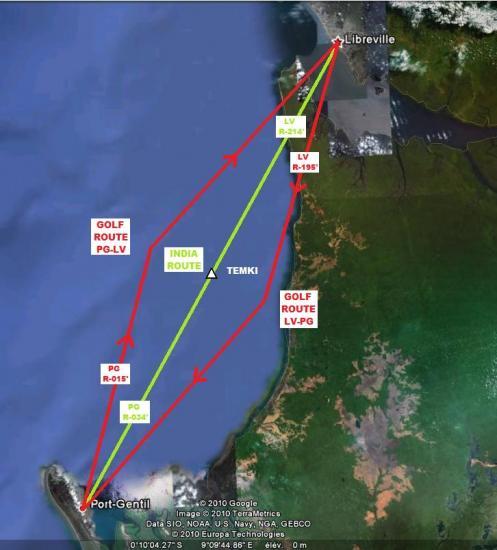 Auto-Information Frequency
Even though all upper-level traffic should use the ICAO African auto-information frequency 126.9 MHz, low and mid-level aircraft in Gabon normally give auto-information reports on 118.1 MHz. Anybody flying in or through Gabon below FL250 is advised to use this frequency.
Helicopter Traffic
High helicopter traffic density below 500 feet may be expected on the Gabonese coast between Port Gentil and the Congolese border, due to oil rig activity.
Parachute Jumping Area
Occasional military parachute jumping activity over Pointe Denis, about 5 NM southwest of Libreville.
Airport Charts & GPS Approaches

List of Gabonese Airstrips - 17 may 10

Akiéni GPS Rwy 06 - 5 oct 08

Bambidie GPS Rwy 10 - 06 jan 06

Batanga South SCD Aviation Part C - 31 oct 08

Booué Airport Chart - 28 sep 08

Booue SCD Aviation Part C - 31 oct 08

Evengue SCD Aviation Part C - 31 jan 08

Ezanga SCD Aviation Part C - 31 oct 08

Fougamou GPS Rwy 19 - 9 nov 05

Gamba SCD Aviation Part C - 31 oct 08
Gamba Jungle Jepp by Solenta - 10 jul 10

Iguela Gavilo SCD Aviation Part C - 31 jan 08

Iguela Tchongorove SCD Aviation Part C - 31 jan 08

Ivindo II SCD Aviation Part C - 31 jan 08

Koulamoutou GPS Rwy 15 - 11 nov 08

La Lopé SCD Aviation Part C - 31 jan 08

La Lopé GPS Rwy 26 - 11 nov 08

Lambarene GPS Rwy 23 - 9 nov 05

Lastourville GPS Rwy 25 - 9 nov 05

Makokou GPS Rwy 06 - 23 aug 09

Mbigou GPS A - 21 nov 05
Rabi Jungle Jepp by Solenta - 10 jul 10

Tassi SCD Aviation Part C - 31 jan 08

Tchibanga GPS Rwy 15 - 06 jan 06

Tsika SCD Aviation Part C - 31 oct 08